Beth-El Shalom Messianic Synagogues offer comfortable yet reverent corporate worship experience.
We uphold Jewish culture and relish in the rich musical traditions in praise to our God. We are a congregation who desires to grow continually closer to God, learning to love Him with all our hearts, souls, minds, and strength. We search God's Word for purpose, meaning, fulfillment, and hope.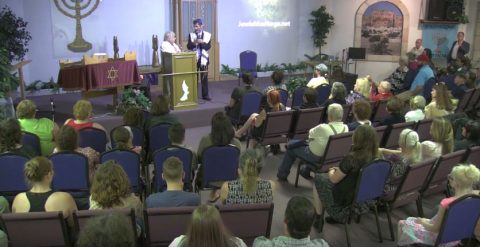 We uphold the entire Bible as the ultimate truth and devote time to study. We also treasure our history and heritage and seek to create a warm, familiar, light and friendly environment for Jewish worship.
 
Come visit us at our New Port Richey Synagogue or St. Petersburg Synagogue (click HERE for addresses).
Our St. Petersburg location meets on Fridays at 7:00 p.m.,
and in New Port Richey we gather on Saturdays at 5:00 p.m. 
 
To know more of what we believe, or if you are unable to attend our services, or if you would like to engage in study and worship in the comforts of your own home or small group, we offer online lessons of Jewish Heritage Scripture Studies HERE  and sermons HERE.
 
May peace, happiness, and God's love be abundant in your life!